The difference between a Typeface and a Font
In typography, a "typeface" is one or more "fonts" designed with stylistic unity, each comprising a coordinated set of glyphs (an element of writing). A typeface usually comprises an alphabet of letters, numerals, and punctuation marks; it may also include ideograms and symbols, or consist entirely of them, for example, mathematical symbols.

A "font" is defined as a complete character set of a single size and style of a particular typeface. For example, "Helvetica" is a typeface, whereas "Helvetica bold" and "Helvetica italic" are both considered separate fonts which offer stylistic variations of that typeface. Generally a set of fonts is known as a "family" and usually consists of bold, italic, condensed, and other variations of the typeface.
Types of Fonts
There are several categories of fonts and it is often useful to know what they are.




Serif (or Roman) fonts are named for the features at the end of their strokes. Times Roman is a common example of a serif font. Serif fonts are generally classified into three subcategories: Old Style, Transitional, and Modern. Most Old Style serifs are bracketed and elegant. There are also Slab Serif fonts which tend to have serifs with a heavy "blocky" appearance. Serif fonts are common in print and are regarded as being the easiest to read in bulk copy (such as novels, brochures, etc).




Sans Serif takes its name from the French "without" serifs, also known as grotesque (or, in German, grotesk), and describes typefaces which generally have even strokes and no features at the end of the strokes. One of the most famous sans serif fonts is Helvetica which is regarded by many as one of the greatest fonts of its kind. Sans serif fonts are common on signage and display media because they are easy to read in this context.




Script fonts tend to mimic hand-writing. They do not lend themselves well to body copy as they can be difficult to read, and are generally used for ornamental type such as on wedding invitations, logos, or displays. Script fonts can be split into numerous subcategories. "Formal Scripts" are based on 18th century formal writing styles and many letters have strokes that join them to the next letter. "Casual Scripts" are designed to look informal, as though they have been quickly drawn with a brush or pen. "Calligraphic Fonts" are based on traditional calligraphic writing. "Brush Scripts" and "Hand-Written Scripts" are designed to look hand-crafted.




The Blacketter style is similar to some medieval forms of manuscript lettering and are the earliest typefaces used with the invention of the printing press. Many people refer to them as "gothic script". Their use is fairly specialised these days.



Monospaced fonts are typefaces in which every glyph is the same width (as opposed to variable-width or "proportional" fonts, where the w and m are wider than most letters, and the i is narrower) and exist primarily for the benefit of technology rather than humans. The first monospaced typefaces were designed for typewriters, which could only move the same distance forward with each letter typed. Monospaced fonts are still important for computer programming, terminal emulation, and for laying out tabulated data in plain text documents.




Display fonts, also known as Ornamental or Novelty, are used exclusively for decorative purposes, and are not suitable for body text. They have the most distinctive designs of all fonts, and may even incorporate pictures of objects, animals, etc. into the character designs. They usually have very specific characteristics (e.g. evoking the Wild West, Christmas, Halloween, Punk Rock, comic books, etc.) and hence very limited uses.
Other types of fonts
These days it is possible to obtain an amazing variety of fonts which serve purposes other than writing. For example, many image-based fonts are available which replace letters and numbers with picture symbols, such as Webdings. Fonts also exist which provide musical symbols, mathematical symbols, technical symbols, special languages, and novelty graphics.
Font Metrics

The diagram above shows the various imaginary lines used to define the anatomy of a font. The baseline (shown in red) is the line on which the text is written. Some letters have parts that descend below the baseline called descenders (such as the "p") and some letters have parts which rise above the median line called ascenders (such as the "h"). The median line defines what is known as the x-height, or the height of a lower-case letter. The cap height is simply the height of a capital letter. It is very common for round letters, or letters with a rounded top or bottom, (Q, U, O, S, G, J, C etc) to be slightly larger than the cap height of flat-ended letters (such as E, F, R, T, I, L, M etc) in order to make them look proportionally accurate.
Weights of fonts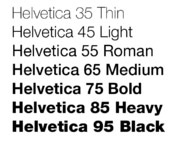 The words used to describe the particular weight of a font can vary between designers and foundries but their relative order is generall fixed as follows:
thin, ultra-light, extra-light, light, semi-light (or semi), book, normal, regular, roman, plain, medium, demi (or semi-bold), bold, extra-bold (or extra), heavy, black, extra-black, ultra (or ultra-black).
Some famous typefaces
Just for fun, here are a few examples of typefaces that have achieved some fame through their use in popular culture and business.
| | | | |
| --- | --- | --- | --- |
| | | | |
| Helvetica Medium | Catull Regular | Myriad Pro | Kabin Light DB |
| | | | |
| Clarendon Bold Expanded | Gill Sans Regular | Futura Condensed ExtraBold | Avant Garde Medium |
| | | | |
| Officina Sans Bold & Book | Avant Garde Bold | Garamond Light Condensed | Times New Roman |