THE COAT OF ARMS
A Coat of Arms is a distinctive design consisting of some common elements. Generally it depicts a shield upon which a series of accessories are displayed such as real or mythical beasts, geometric shapes, plants, tools, and other objects. A knight's helmet is positioned above the shield, which often includes a wreath or crown. Upon this, the crest is rested, forming an important element of the overall insignia. Flowing from the helmet at the wreath is the mantling, which depicts the colours worn by the knight on his surcoat. Finally, a scroll is included to display the family name. Sometimes an additional scroll may be included to display a motto.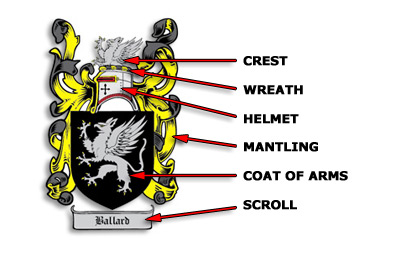 SCROLL
The scroll is used to display the family name and / or motto.

BLAZON
The Blazon is the unique description that is used to format a Coat of Arms. Blazon uses special Heraldic terminology which accurately describes the colours and features and how they are configured.


THE SHIELD (ESCUTCHEON)


The main area of interest in a Coat of Arms is the shield. This is where the main elemenst of the Coat of Arms tend to appear, and there is a complex set of rules and standards which format the shield.

THE FIELD
The Field refers to the background of the shield. This can be a colour (called a Tincture in Heraldry) and it can be one solid colour or divided into more than one colour as follows.


THE TINCTURES
The Tinctures (colours) represent metals, furs, and standard colours and are described Heraldically as:
Argent
(Silver)

Or
(Gold)

Gules
(Red)

Azure
(Blue)

Vert
(Green)

Purpure
(Purple)

Sable
(Black)

Ermine
(Fur)

Ermines
(Fur)
CHARGES
A charge is any emblem or device occupying the field of an escutcheon (shield). This may be a geometric design (sometimes called an ordinary) such as a rectangle or chevron or it can be a symbolic representation of a person, animal, plant, object or other device. Lions, horses, roses, and stars are common charges found on many coats of arms. There are of course many hundreds of charges so listing them all here isn't possible but a few common ones include:


| | | | | | | | |
| --- | --- | --- | --- | --- | --- | --- | --- |
| | | | | | | | |
| Harp | Estoile | Heraldic rose | Fleur-de-lis | Lion rampant | eagle displayed | Annulets | Lozenge |
ORDINARIES
Ordinaries (sometimes called Honourable Ordinaries) are generally geometric features which appear on the shield, such as the chevron, cross, or fess. There are diminutive versions (smaller or thinner versions) as well as smaller ordinaries such as the quarter , the canton, and the label (also known as subordinaries).


| | | | | | | |
| --- | --- | --- | --- | --- | --- | --- |
| | | | | | | |
| Chief | Bend | Cross | Chevron | Saltire | Pale | Fess |