25 Years in the Trade
Absolute Graphix was started in 2005.
However, Rick Jones, the founder of the company, started in the trade way back in 1987 and marks 25 years of service in this trade in 2012. He remembers those early days of the "old school" pretty well...
1987. Margaret Thatcher was Prime Minister, the M25 was barely a year old, and an unusually harsh hurricane managed to deprive Kent of quite a few trees. Lethal Weapon, Dirty Dancing, and Full Metal Jacket were big box office earners, the Commodore 64 was one of the hottest home video game consoles, and Michael Jackson's BAD album made its debut.
It was also the year that I started in this strange trade we call signs and graphics. I was just 17 then, full of ambition and idealism, thrust directly to the bottom rung of what turned out to be a rather tall ladder. In those very early days my duties consisted of lots of vinyl weeding, emptying bins, and being everyone's bitch. Come to think of it, not that much has changed!
It wasn't long before I started laying my hands on the production equipment, even though I wasn't strictly allowed to. I was in awe of the sci-fi technology before me. A machine, attached to a top-of-the-range (at the time) computer, that could literally cut words and pictures like a robotic artist from sticky vinyl. It was truly awesome back then.
There are thousands of vinyl cutters on the market these days but I can recall the machine we had in those days, which was the very first one to become available in the UK, at a phenomenal cost of around £15,000. It was the GRAPHIX 4B, a huge, clunky blue monstrosity that could sprocket-feed a 12-inch roll of vinyl into a cutting roller. It was a noisy brute, more noisy than a skeleton having a fit on a tin roof; it was painfully slow; and often clumsy, causing material snags and broken blades. But it was also revolutionary at the time. The machine could hold about five or six fonts, and each font was stored on a (very large by today's standards) memory board that you popped into the motherboard. We had to hire fonts back then. Can you imagine that? You hired your font, which arrived by post the next day, and then you returned it the day after once you'd cut your job.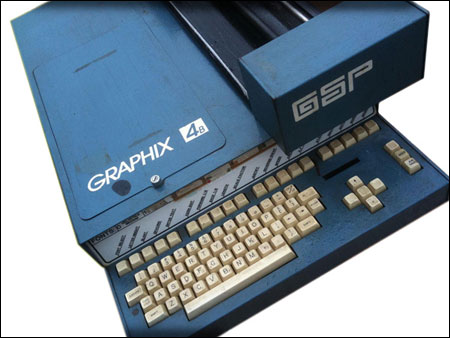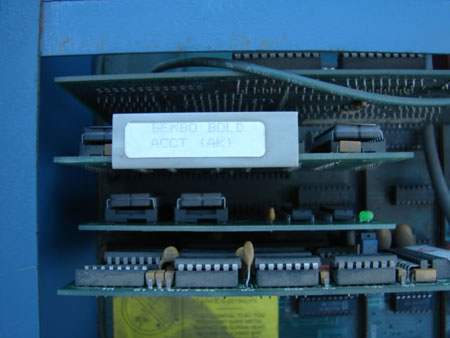 The 4B had no screen; all of the text input was done on a tiny LED read-out and there was no WYSIWYG display either. The LED display allowed you to type instructions and then you just hoped you'd typed it all in properly when it started cutting.
The 4B could only be programmed to cut text. Cutting logos and symbols was a mammoth task in its own right. We used a digitising tablet with a sort of mouse that had a copper cross-hair on it to "trace" points from a technical hand-drawn rendering of the symbol to create arcs and lines on an 8-bit Apple 2e, one of the earliest Apple computers. The 2e had a proper old-school black screen that could only display green pixels, and a noisy, grinding 5-inch disk drive. The process of digitising images was depressingly slow and often hit-and-miss on accuracy but with patience and just a pinch of luck some great results were achieved. This was all years before Adobe software existed and creating vector paths was highly scientific and mathematical rather than the more creative endeavour that it has become now thanks to advanced software.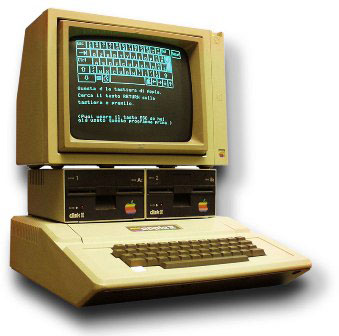 We had a choice of around 10 colours in the vinyl range and not much else. When a job demanded something a bit special, a bit beyond the limits of the technology that was available (which, to be honest, was quite a lot), we set about hand-drawing and cutting the vinyl and assembling graphics totally by hand. These days such jobs simply fall out the front of a wide format printer, but back then these jobs were terrific creative projects demanding a touch of craftsmanship and skill. I don't assume to take full responsibility for these works as I was lucky enough to work with some very talented individuals and these projects were always a brilliant team effort.
Today of course we're assisted by the impressive software and hardware at our fingertips. The chasm between today's computers and those of 1987 is cosmic - we now have thousands of fonts, amazing production software, high speed cutting and printing gear, and of course a little thing called the Internet happened which is a fairly useful gizmo. The Internet didn't properly find its way into the trade until around 1997, a full decade after I started. Can you imagine working in graphics with no Internet? For a whole decade? I am proof that it was once possible.
It has been fascinating to experience the digital media revolution from its beginnings, and to have been part of the very first wave of digital graphics production. Seeing this trade change so much has been really eye opening.
It's true what I tell people: I remember when "cut and paste" involved a craft knife and glue; I remember when van graphics were costed based on the time it took to hand paint the letters and let them dry; I remember when a rush job was three days rather than three hours. In short, I remember the "old school" of signs and graphics, and witnessed first hand its rapid demise as the digital frontier consumed it.
25 years is a long time but it has been a fun and endlessly rewarding career so far.